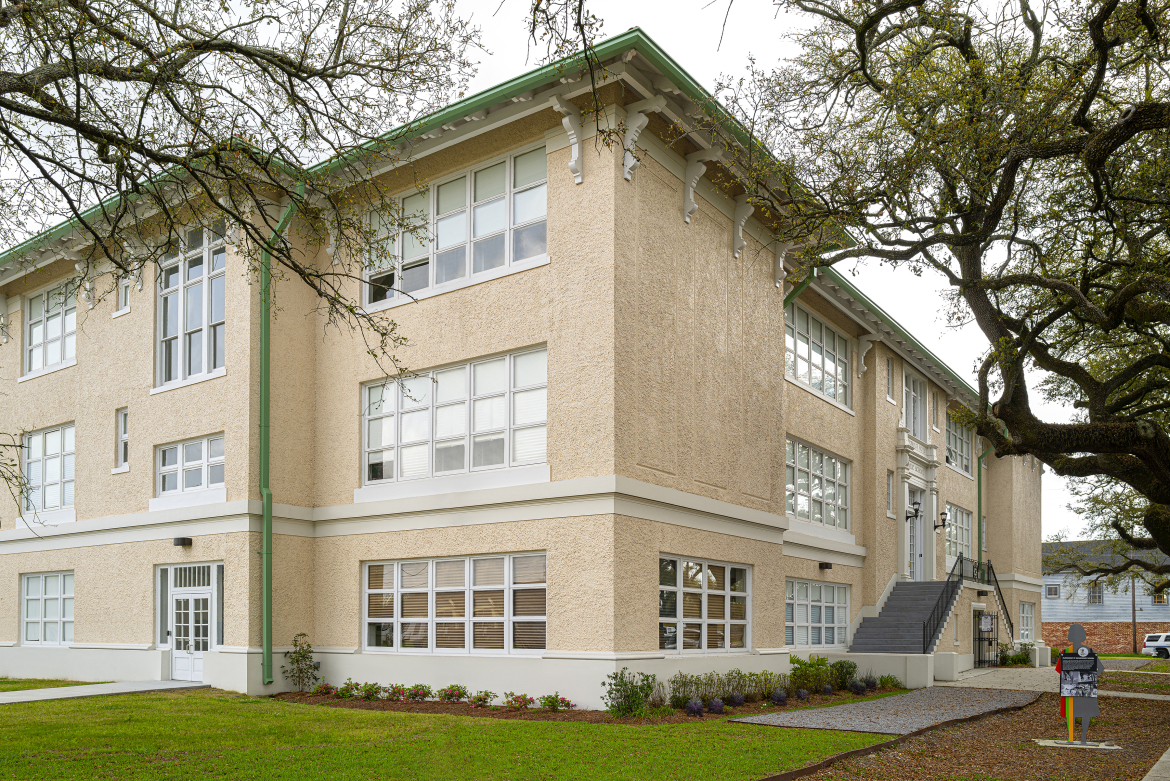 TEP Interpretive Center and Senior Living
Honoring the Civil Rights Movement
The TEP Center is named for three Civil Rights warriors—Leona Tate, Gail Etienne, and Tessie Prevost—who as first graders integrated the New Orleans public school system. The six-year-olds were dubbed the McDonogh Three, based on the school they attended in 1960—McDonogh 19.

The 1929 school building is known as a "Christy building," as it was the work of the prolific architect who designed over fifty New Orleans schools, E. A. Christy. The school was abandoned after Hurricane Katrina in the hard-hit Lower Ninth Ward and was named to the National Register of Historic Places in 2016 due to its significance in the city's desegregation. Despite its significance, it suffered the ills of abandonment until purchased by Leona Tate's foundation, saving the building and preserving its powerful story.

The design will transform the shuttered school into a museum, community center, and will include housing for twenty-five seniors. The museum component will provide an immersive experience, allowing visitors to view desegregation efforts through the eyes of the McDonough Three. The spaces and exhibits are designed to narrate their story and place viewers in the morning in 1960 when three girls were escorted by federal marshals to school. Further experiential elements will show the progress of the Civil Rights movement beyond the school's walls in the city and nation. Multi-media displays will include audio recordings of those who were engaged in those eventful days, and visitors will also be able to participate in the collection of oral histories and other activities, adding their own stories to this living museum.

Manning's responsiveness to funding agency requirements helped the project gain New Markets Tax Credits, Community Development Block Grants, and historic tax credits. Manning and CDW Services worked together on this design-build collaboration to transform the school into a living museum and resource center.