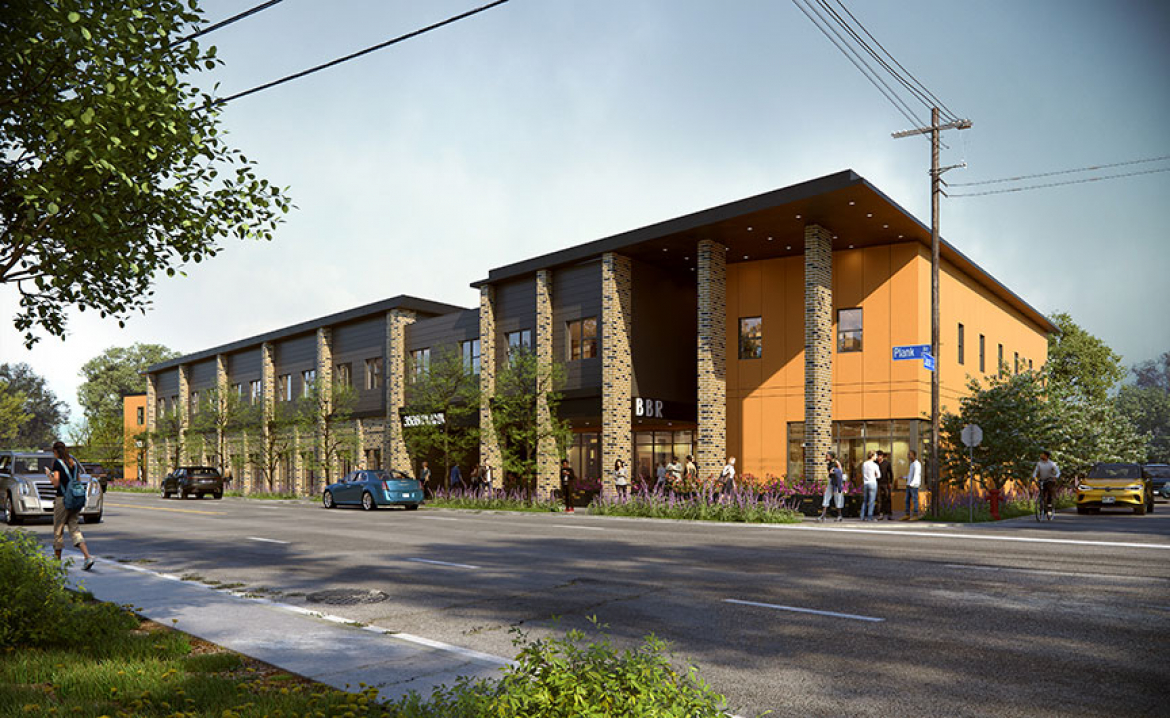 Plank Road Mixed-Use Development
Catalyst for a new vision aimed at transforming neighborhoods
"The Plank Road Corridor is a thriving, socially diverse and walkable network of neighborhoods anchored by good transit, strong local businesses, quality housing, and resilient infrastructure." This vision statement for Imagine Plank Road, a development plan spearheaded by Build Baton Rouge, has begun to take physical shape with the cornerstone mixed-use development as the first priority for implementation. The plan focuses on 4.3 miles along Plank Road, what the President and CEO of Build Baton Rouge calls "our city's most blighted and disinvested commercial corridor," with the goal of connecting North Baton Rouge to Downtown and LSU through new bus rapid transit service and strategic development projects facilitated by land banking of blighted properties in a true transit-oriented development (TOD) project.

Manning's design responds to the development plan goals of providing affordable and desirable housing options with fifteen second-floor mixed-income units targeting families and the large senior population in the community. The commercial space at street level is slated for a YMCA Early Head Start program that will provide much needed childcare and other services to 60 area children, giving their parents the ability to gain employment or finish their education. Build Baton Rouge will also occupy space, moving its headquarters to the new facility at ground-zero for the community's revitalization.

The project was initiated during the COVID lockdown, requiring the design team to develop the design and documentation entirely remotely. All client and consultant interface was handled online, testing our highly collaborative process in the new environment. Manning implemented communication schedules with the client and consultants and worked diligently to maintain transparency throughout each phase. The result was confidence in the process and delivery of a transformational project for the community, all within the high standards of the client.

The pandemic affected construction pricing with wildly escalating costs. Through the spiking market, Manning worked conscientiously with the team to deliver the project to the satisfaction of private and public funders and within budget.