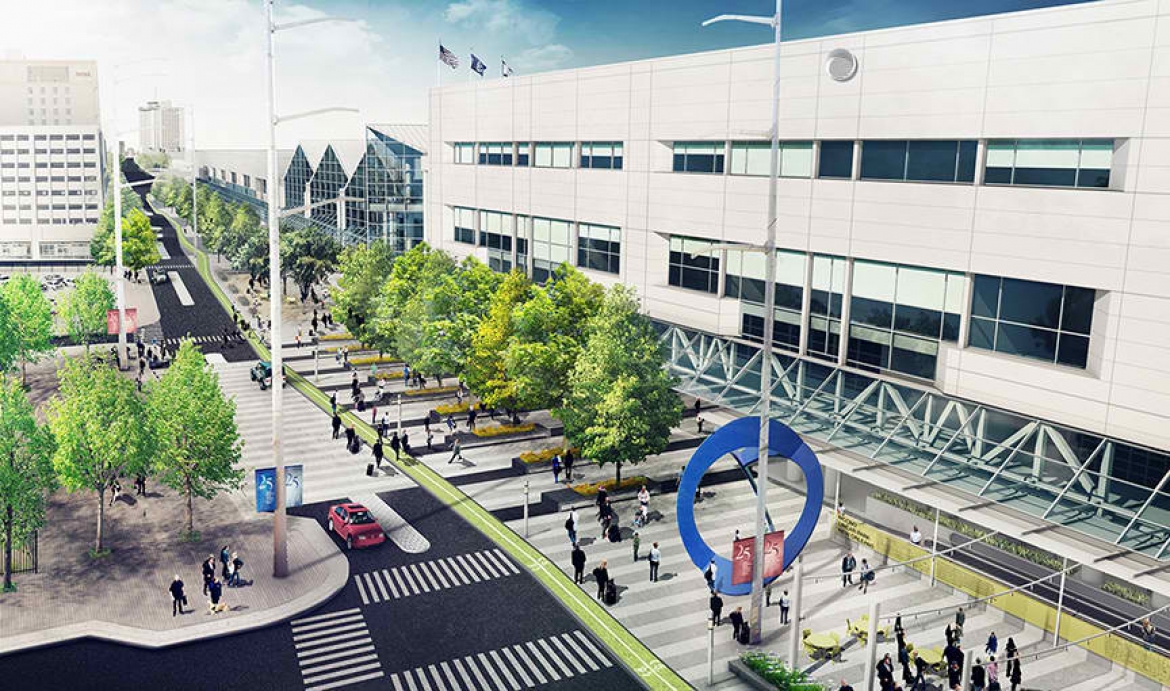 New Orleans Ernest N. Morial Convention Center Linear Park
From roadway to pedestrian promenade
The new Linear Park for the New Orleans Ernest N. Morial Convention Center serves meeting and event attendees as well as New Orleans residents. The park repurposes 7.5 acres of roadway into a lushly landscaped, continuous pedestrian promenade along Convention Center Boulevard for the eleven-block length of the Convention Center. Visitors are engaged with opportunities to stop for food, view public art, or just sit and enjoy the scenery. The green spaces include lawns for relaxing, benches, and an in-ground interactive fountain that creates a cooler environment for outdoor activities.
New porches extending the Convention Center's concourse to the park allow visitors to experience the city's vibrant street culture. The porches are equipped with the technology needed to host concerts, catered events, social hours, and all forms of entertainment for attendees. For those seeking to explore the city, the park includes a multi-modal transit stop with easy access to points near and far, including the adjacent Historic Warehouse District, the Riverfront, and the French Quarter, as well as the Union Passenger terminal and airport. Linear Park creates a convention center experience truly integrated with New Orleans city life.
In addition to the vibrant user experience enhancement, the park's design helped achieve the Convention Center's LEED Gold Operations and Maintenance certification, a significant accomplishment. 200 trees line the promenade, and the landscaped rain gardens are part of the stormwater management strategy for the sixth-largest convention center in the nation.