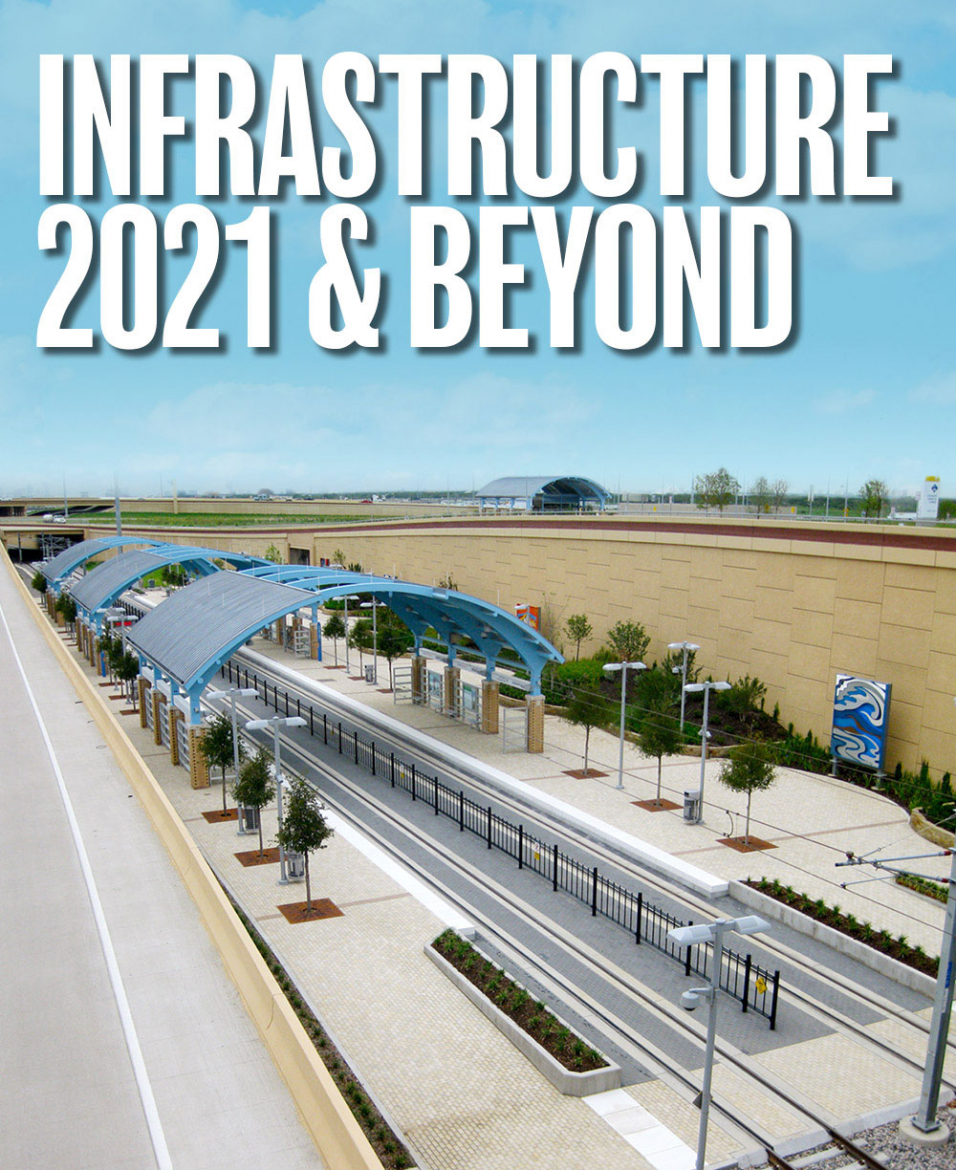 Infrastructure Now: For The Economy And Future
I get excited about the possibilities for improving quality of life. Our passion at Manning is improving quality of life through collaboration and design. It's what drives us. We think of every project as an opportunity to affect our clients, the building users, the community, and sometimes in a small way, even the world.
The good news, I guess you could say, is there's so much opportunity for improvement when it comes to infrastructure. The bad news is there's so much to improve, and it's not easy.
Baseline – Room for Improvement
Every four years the American Society of Civil Engineers (ASCE) reports on our nation's infrastructure and gives it a grade. In the last report, in 2017, the US scored a D+, the same grade earned in 2013. Plenty of room for improvement there.
A graphic from
that report
shows the sectors that make up the country's infrastructure graded along with upward and downward trends. Rail is the strongest sector, trending up to a grade B, and transit is the weakest, dropping to a D minus. It's eye-catching to see that inland waterways and levees are trending
up
to a D grade.
Ask any New Orleanian who took refuge on a black roof baking in the late August sun to escape the flooding after Hurricane Katrina when the levees breeched how important levees are. Trending
up
to a D is mindboggling. And transit trails behind all sectors. Cities are more livable with robust transit systems that reduce traffic congestion and carbon emissions, eliminate costly parking for many downtown workers, increase safety, and provide transportation to work and school that some now cannot access. Getting people moving gets our economy moving.
Because our deteriorating infrastructure affects everyone—farmers in rural areas who need good roads to city dwellers who want cleaner air and an efficient commute—there is broad-based support for the concept, even if plans differ. Our officials, from whichever political ideology they hail, have been elected with the charge to lead in this area. Since we've let this problem go largely unchecked for far too long, it's a steeper challenge, but lead they must. We can't wait any longer without disastrous results.
Infrastructure improvement is vastly more far reaching than fixing a few potholes along the morning drive to work. It's not our car's suspension system we have to worry most about, it's our health and the overall economy. In a world trying to emerge from the COVID-19 pandemic, we are more concerned about our health than ever under the additional weight of struggling with the crushing blow to the economy.
A comprehensive infrastructure program, though costly, can improve the economy and our wellbeing.
Models
The problem is staggering in scale, but we have historic and modern precedents to learn from.
Franklin Roosevelt launched the WPA (Works Progress Administration) in the height of the Great Depression. Though the program was responsible for building infrastructure projects on a massive scale, its primary aim was to improve the economy, which struggled with a 20 percent unemployment rate. According to
History.com
, the purpose was "to lift the country out of the Great Depression by reforming the financial system and restoring the economy to pre-Depression levels." The article goes on to note that over 3.3 million Americans were employed by the WPA program.
Transportation Today
, documenting data from the ASCE report, says:
. . . as the United States invested in and grew its infrastructure system – in projects like the transcontinental railroad, the Hoover Dam and the Interstate Highway System – the country's economy and quality of life also improved. "Accordingly, a sizeable portion of the nation's GDP in 1930 (4.2%) was allocated to infrastructure projects, a level of investment which has significantly dwindled by 2016 (2.5%)," the report said.
More recent examples shed light on effective modern infrastructure programs. CNBC ranks Texas in the top spot, tied with Tennessee, for states with the best infrastructure, citing its top-ranked port, two international airports that are among the busiest in the nation, a vast highway system, and responsible upkeep.
Examples of forward-thinking transportation systems in Texas include Cap Metro in Austin, Dallas's DART system, Dallas-Ft. Worth airport, and Texas Central Partner's High Speed Rail corridor between Dallas and Houston.
Cap Metro (Capital Metropolitan Transportation Authority) in Austin operates the bus network and commuter rail system, and with a recent $7 billion bond issue, transportation options will be expanded to include three light rail lines, an additional commuter rail line, and new bus routes.
DART (Dallas Area Rapid Transit) services north Texas with commuter rail, light rail, bus service, and paratransit services. Direct service is provided to 200,000 riders in Dallas and twelve surrounding cities as well as connections to other metro areas. With a service area of over 700 square miles, it is the longest light rail system in the country. A 2020 study of development impacts to real estate projects surrounding DART lines revealed the following:
The total economic impact of the projects created $10.27 billion for the DFW economy. The projects created 61,017 construction jobs.
The projects generated $286.4 million in state and local tax revenue.
Projects within ¼ mile of the Downtown Dallas to Bishop Arts streetcar route saw $200.7 million in development with a corresponding economic impact of $454.7 million.
The streetcar projects created 2,701 jobs over the period and generated $12.6 million in state and local taxes.
Properties surrounding DART stations rent for substantially more than surrounding projects. Residential properties have a 17.9% rent premium and commercial and office space have premiums of 23% and 5.8% respectively.
Both Cap Metro and DART connect people to jobs, create jobs, reduce traffic congestion in city centers, and reduce air pollution.
Moving from rail to air, Dallas/Ft. Worth International Airport ranks as the fourth busiest in the nation.
Business Insider
ranks it at number ten in the world and calls it a "super hub" that produces over $37 billion per year, making it a major economic generator for the region.
DFW is the primary hub for American Airlines, the largest airline in the world. In fact, the airline recently announced plans to move its trans-Pacific base from LAX to DFW, giving travelers from Dallas direct access to Asian locations. In the decision calculation, geography lost out to Dallas's business market, easy access to most US destinations, connections to Latin America, and ability to grow.
Making Tomorrow Better

The above examples were initiatives that started as visionary ideas of what could be. Those visions were realized through the concerted efforts of many that now give us a roadmap that can be tailored and applied to other projects in other locations. There is broad support for an infrastructure bill even if plan details vary, and President Biden has indicated that an infrastructure bill that creates jobs and builds a sustainable infrastructure is a top priority. It can hardly come too soon.

It's time to establish an infrastructure vision for America that goes beyond paving projects to support a better future—a future with a robust economy, lower unemployment, higher tax revenues, and commutes that are easier for travelers and better for the environment.

It's time for leaders to be visionaries and embrace the task though it is big.

It's time to prepare our country for our children's future.



---