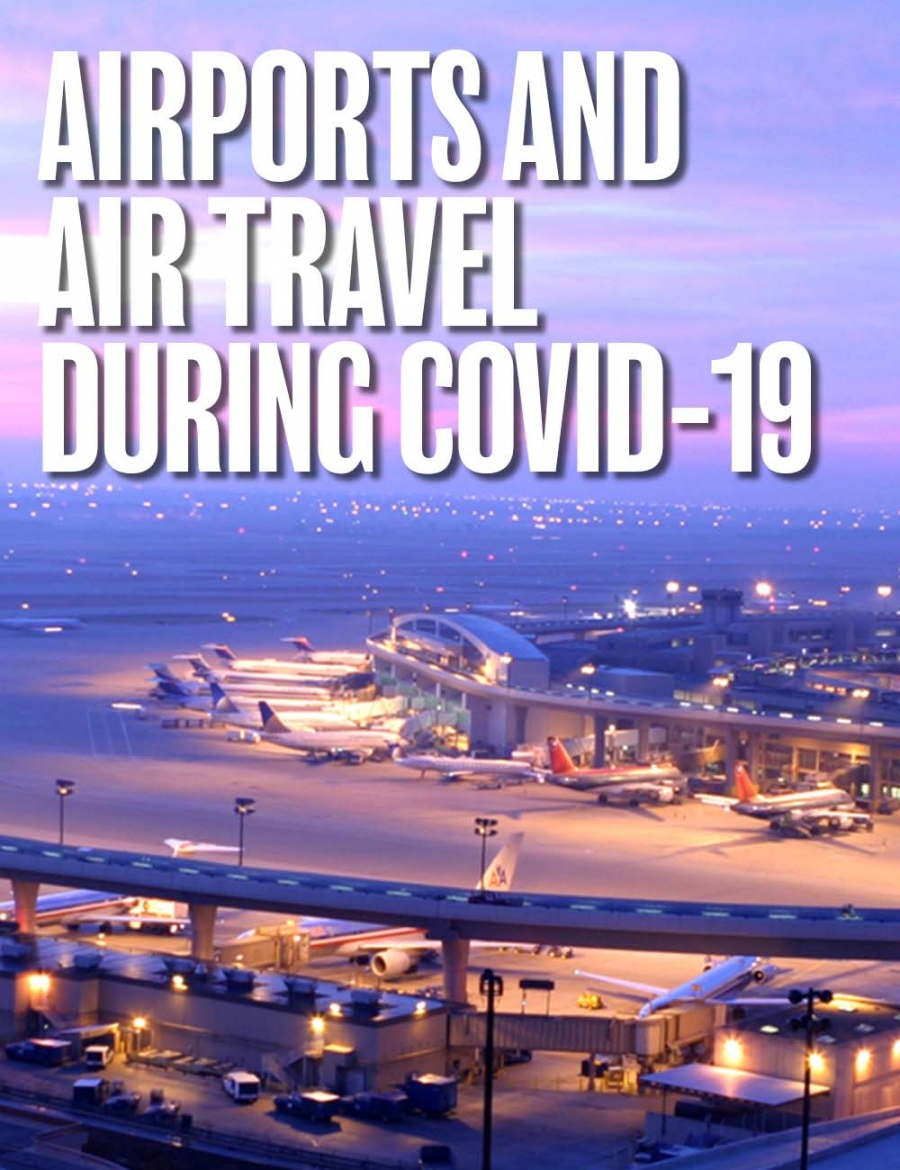 How Airports are Changing due to COVID-19
LOOKING DEEPER TO FIND CONFIDENCE IN THE AIR
I've always loved flying. You name it—birds, hot air balloons, planes, rockets—have always fascinated me. Before the pandemic, I often traveled between our New Orleans and Dallas offices weekly, visited grandchildren across the country, and hit the skies when that too-infrequent international vacation finally happened. But since the COVID-19 pandemic, I've avoided it, and I'm not alone.
AIR TRAFFIC TAKES THE PANDEMIC PLUNGE
The Bureau of Transportation Statistics estimates nearly a billion passengers flew on US airlines in 2019, the highest number ever and the culmination of ten years of steady growth. And then came COVID-19. Based on daily enplanements reported by The Transportation Security Administration (TSA), passengers for a past week in August range from a mere 25% to 33% of 2019 numbers, a massive reduction. As low as those figures are, they are trending up from 4% in April.
Airlines, airports, the FAA, TSA, and the CDC have worked to make the changes needed for passengers' safety. In airports, hand sanitizing stations are within easy reach, touchless technology is in use, shields separate queues at checkpoints, seating in holding areas is reduced or blocked for social distancing, cleaning and disinfecting frequency is increased, and masks are required. On planes, sanitizing rituals emulate hospitals and clean air technologies reduce the likelihood of transmission.
What else can make you and me comfortable taking a flight?
WHAT AIRPORTS ARE DOING
To be sure, airports are scrambling to make air travel as safe as possible in the pandemic environment. With health safety in mind, cleaning protocols have been significantly upgraded along with other measures. Check any airport's website and you'll likely see a list of operational updates that include:
Frequent cleaning, especially in high-touch areas,
Prolific hand sanitizing stations,
Requirements for passengers and staff to wear face coverings,
Floor markings and signage encouraging social distancing
Barriers at checkpoints and service points such as concessions
Occupancy limits on elevators
GBAC STAR Accreditation (DFW was the first airport to earn the accreditation from ISSA, the worldwide cleaning industry association)
Less obvious strategies include ongoing testing of sanitization innovations such as HEPA filters, ultraviolet light sanitizers, and bipolar ionization technologies.
Communication further increases health safety by promoting social distancing and other conventions. Clear communication also provides travelers with the peace of mind that comes from knowing what is happening. Signage and websites inform the public of what they can expect from traveling through the airport and what is also expected of them. Knowing what to expect decreases anxiety. Taking it a step further, technology can be exploited with phone and computer apps that predict wait times at high-volume areas such as TSA checkpoints and ticketing. Combined with flight schedules, passengers can choose lower trafficked windows to board an airplane or stand in a TSA line.
REALIGNING CONSTRUCTION PROJECTS WITH NEW DEMANDS
Insightful airport authorities and airlines are taking the long-view approach to the pandemic's blow to airport traffic and capitalizing on the low-volume to complete construction projects that require significant shifts to operations areas and gates. They are also recalibrating plans based on evolving demand patterns.

As an example, DFW has shifted efforts from construction of the new international Terminal F to redevelopment of Terminal C, American Airlines' flagship terminal at DFW, to increase domestic capacity. While DFW has felt the blow of the pandemic like all US airports, it remains one of the busiest, reporting current activity at 60% of normal levels. With domestic flights ruling the day after the pandemic virtually ceased international flights, the airport refocused on the fifty-year-old terminal. Terminal C was considered part of the airport's decade long TRIP (Terminal Renewal and Improvement Program), but it wasn't feasible previously to interrupt operations due to the high volume of traffic generated by the terminal's forty gates.

Manning's work throughout the TRIP program has involved construction phasing, planning for temporary moves, and permanent relocations so that operations could be maintained throughout construction for the renovated Terminals A, B, and E. Now the pandemic has provided an unforeseen opportunity to renovate the long-overdue Terminal C.

Manning is also working with American Airlines at DFW to relocate four gates from Terminal C. Again, this is taking advantage of the low traffic induced by the pandemic. The gates were built to be "temporary" decades ago. Now they can finally be decommissioned and rebuilt to meet current codes and passenger demands. The new gates will sport the latest technology with new content management systems.

WELLBEING GUIDED BY DATA-DRIVEN INTELLIGENCE
It's hard—impossible hard—to predict the future based on past models during a paradigm shift. The pandemic has fundamentally changed passenger need and patterns, and it's widely believed that once the pandemic is passed, some of those changes will be here to stay. But which changes? What aspects of pandemic survival and recovery are becoming mandatory for passenger wellbeing?

That's the task airports are faced with in their short- and long-term planning. And while airports have been savvy in responding to the passenger experience for years, aligning amenities with demographics and wait times with traffic volumes, the goal has shifted to the traveler's overall experience of wellbeing. Just as 911 transformed airport security operations and considered passengers' physical safety, the COVID-19 pandemic must consider their wellbeing, which encompasses physical safety, health, and emotional wellbeing. This last component, emotional wellbeing, must go beyond safety to ensure that people feel safe and comfortable. The perception of wellbeing is critical to regaining passengers' trust—yours and mine—in flying.

DFW, in coalition with The Convergence Collective and the American Association of Airport Executives (AAAE), has launched an initiative to rebuild trust in air travel with a platform that evaluates passenger trust and can be used in making real-time operational and communications decisions. Groundbreaking information such as this will help to define where this new paradigm leads and identify what wellbeing means for U.S. passengers in this new era.

It's heartening that one of the nation's busiest airports is taking on this challenge. Even more importantly, as airports across the U.S. share this kind of data, a usable database can be generated for a coordinated national response.

THE RAMP – ESSENTIAL WORKERS
There's another important area to consider in this paradigm shift to wellbeing. Beyond the often highlighted and important protocols that we see in terminals and on airplanes, there's a less visible area to address: the ramp level.

The ramp, or apron level, is what's below the concourse, where airlines and airport personnel perform operational tasks: baggage handling, ground equipment maintenance, refueling, cargo handling, animal handling, and certain communication functions. The employees who work on the ramp are essential personnel that travelers rarely see but depend on. The airline operations spaces at ramp level also provide respite for flight crews with break rooms and relaxation.

The wellbeing of these workers is essential for airline traffic to operate and to operate safely. Wellbeing takes safety and physical health a step further and encompasses the whole person. It includes how a person perceives their life, which is affected by the built and natural environment among other factors.

Manning's focus on the ramp level spaces for Terminal C at DFW is in the early design stage, but we plan to incorporate ideas that directly target wellbeing: natural and carefully planned artificial lighting, appropriate color palettes for space functions, durable surfaces that are nature-inspired, natural materials where possible, breakrooms and cafeteria sized for adequate social distancing, loungers or recliners for individuals rather than sofas, touchless technology, and hand sanitizing stations. Clean air will be achieved through ionizers and ultraviolet technology similar to that used on planes.

IT MATTERS FOR TRAVELERS
Essential workers are the new heroes. But it's more than gratitude and a sense of fairness that inspires the design of operational spaces on the ramp level. We believe the wellbeing of ramp-level personnel is interrelated with passenger wellbeing. When the unseen personnel at the airport have a sense of wellbeing and are healthy, they can perform their jobs better. They in turn affect TSA staff, airline personnel, and others who interface with passengers. And though passengers don't see what happens to their bags between check-in and bag claim, it's good to know the person handling your bag is following protocols and is healthy.

And, flight crews that are well-rested, alert, and have a sense of wellbeing can perform their jobs at peak performance, directly impacting passengers.

CONFIDENCE IN THE AIR
Many things conspire to create trust and a sense of wellbeing when it comes to flying. It all comes together when health needs are met, when safety measures are communicated to travelers, and when passengers feel safe and comfortable. Many airports are working hard to respond to the changing environment, developing partnerships to predict future needs so they can respond early.

In these days of searching to provide a sense of trust in flying again, sanitizing the plane cabin is as important as aircraft maintenance checks, and taking care of those who service passengers on the ground and in the air makes sense for everyone.

I'm eager to fly again and hope I will regain the comfort levels lost in the pandemic over the upcoming months. Until there's a vaccine and the situation with COVID-19 stabilizes, it's comforting to know the lengths the airport and airline operators are taking to ensure public safety. Hats off to those essential workers who make flying possible, even in uncertain times. As I write this on September 11, I pause and remember the last time airport traffic was upended. Security measures transformed the experience of flying then, and now, I take those measures in stride. I look forward to the time when today's added technology and sanitization too will seem passé.