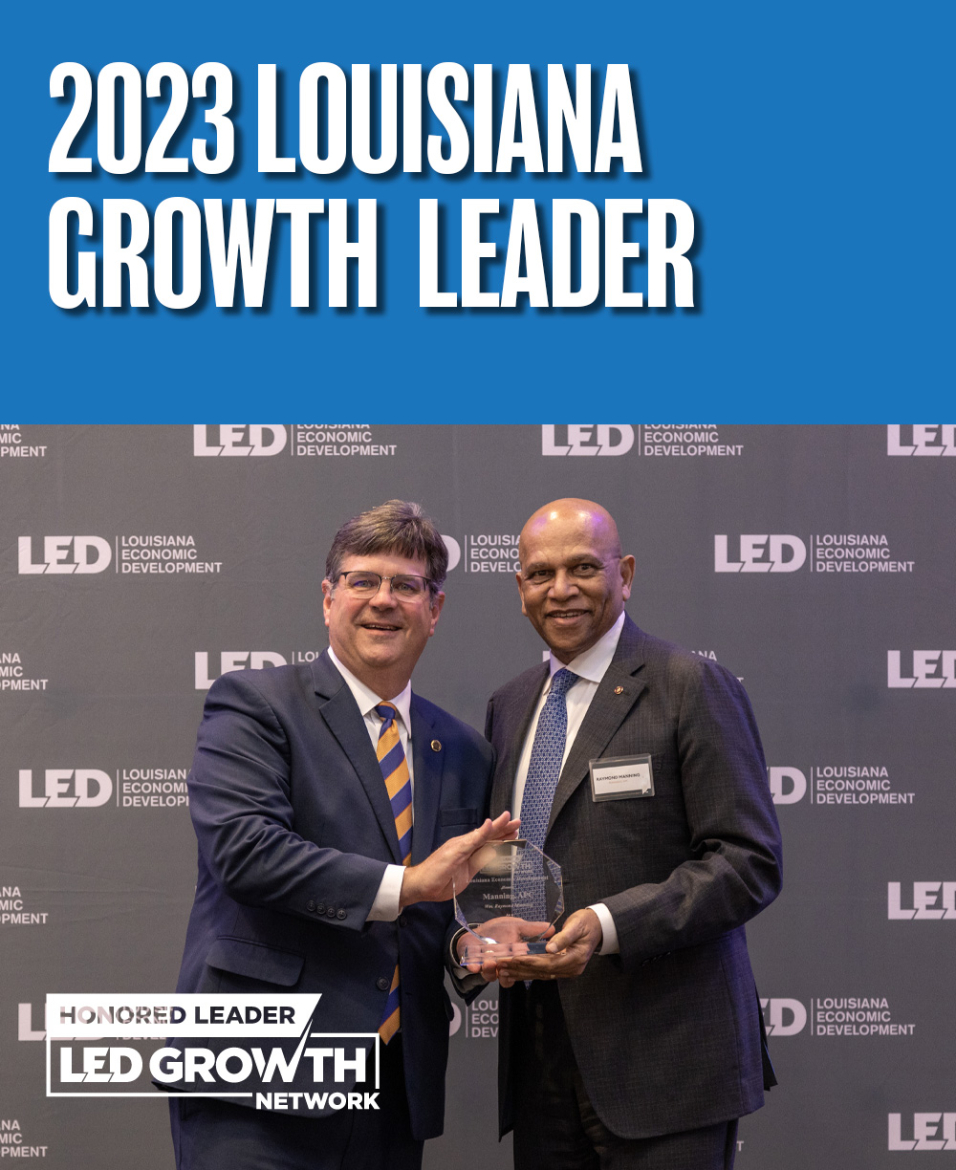 2023 Louisiana Growth Leader

Manning, APC is honored to be named a 2023 Growth Leader by Louisiana Economic Development (LED). The selection panel of economic development professionals from across the state chose Manning based on growth, strategy, innovation, philanthropy, leadership, and company culture. We appreciate the LED's efforts to support businesses in our state and accelerate the growth of our economy.
The honor is significant to us since it shines light on our core value of growth.
Geographic Growth. Manning has expanded its geographical reach with licensure coast to coast across the US. We've been headquartered in Louisiana for thirty-eight years, focus regionally along the Gulf Coast with offices in New Orleans and Dallas, have expanded to include an office in Washington DC, are working on projects in multiple states, and have past and ongoing projects internationally.
Capacity. To facilitate our expansion, we've increased our staff, adding eleven new staff members over the past year. With even further growth potential and supporting our diversity and employee wellness culture, we've transitioned to a remote work environment. While our physical offices are fully equipped and offer meeting spaces, technologies, and workspaces, team members may work from anywhere they like. Our intentional focus on community building and technology-supported collaboration has helped us build a strong culture where everyone's voices are heard and innovative solutions flow.
Expertise. Our growth extends to the services we offer. In addition to architecture, interior design, and planning, we've added program management as an area of expertise and are currently engaged as the program manager for Orleans Parish School Board, helping to create a capital plan and manage its portfolio of schools. We've also built expertise in STEM facilities for community colleges and higher education, with the recently completed Ochsner School of Nursing and Allied Health at Delgado Community College and projects at Southern University and Baton Rouge Community College on the boards.
Community Outreach. Manning is also pushing boundaries in multiple sectors to improve the quality of life in the communities where we work and live. Over the past year, we've developed wellness initiatives targeting minority communities to combat health disparities, including bringing funding strategies and partners to the table. We have also partnered with the City of Monroe to create a vision to drive the renovation and expansion of their city-wide system of community centers. Based on intensive community engagement, Manning leads an innovative program to enhance community life and well-being.
We are grateful for the opportunities to merge our passions and design thinking to serve our clients, friends, and neighbors through collaborative architecture, interior design, and planning. We are also thankful for our dedicated and creative team of talented staff members who work daily with a creative mindset, support for one another, and the energy to achieve great things.

"This group of business leaders is a true representation of Louisiana's dynamic small business community. The companies and business leaders being honored are committed to building the state's economy while also strengthening their local communities. It is businesses like these that make Louisiana such a great place to live and do business."
– Governor John Bel Edwards

"This year's honorees have truly earned the title of leader through their continued support for economic and job growth statewide. These honorable business leaders have prevailed during challenging times, while still forging the way for a better economy for our state. I appreciate their continuous efforts and look forward to seeing their ongoing success."
- LED Secretary Don Pierson